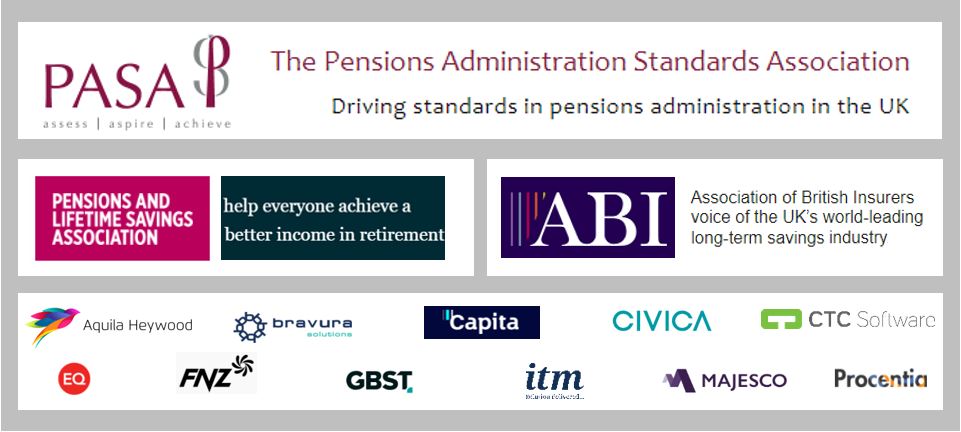 Matching dashboard users to their pension records
One of the thorniest issues for pensions dashboards is how to safely match individuals logging in to their pensions held by schemes. Collaborative work is needed to help solve this in a consumer- acceptable way.
Every pension scheme and provider will need to decide what particular combination of personal data items it's best for them to match on (such as Surname, Date of Birth, Address, National Insurance Number, etc.).
If they set their match criteria bar too high, though, they risk pensions not being found for the user to view on a dashboard. Setting it too low potentially risks the wrong pensions being returned to the user to view.
So schemes are looking for industry-wide conventions, which they can adopt, that strike an appropriate balance between the sensitivity and specificity of matching (see the new PLSA Thought Leadership report).
Industry-wide data matching conventions (DMCs)
What's critical is that any industry data matching conventions (DMCs) developed must be adoptable right across the entire pensions universe: state pension, public service schemes, private sector schemes (both in-house and third-party administered), master trusts and all types of commercial pension/buy-out providers.
A saver could have pensions with all of these different types of pension organisations, so there needs to be a parity of data matching right across all the different sub-sectors of our very diverse pensions industry.
PASA working together with industry, regulatory and technology organisations
This need for matching parity has led the Pensions Administration Standards Association (PASA) to bring together the Pensions and Lifetime Saving Association (PLSA) and the Association of British Insurers (ABI) to devise solutions.
We will build on existing data matching approaches, align thinking with the small pots co-ordination group, and ensure industry-wide adoptability.
We are also already engaging with the regulators (The Pensions Regulator and the Financial Conduct Authority) to help ensure the DMC thinking aligns with their emerging regimes for dashboards regulation.
The data matching conventions must also work in practice, so we're liaising closely with 11 leading providers of pensions administration software. They can then implement the different industry matching conventions, for their different trustee and other clients to choose from to be used on their schemes.
It's important to state, though, that the standard DMCs won't solve the matching challenge on their own. As well as adopting an appropriate DMC, trustees will need to work with their suppliers to implement (or build on existing) technology/data cleansing solutions which, in combination, will help to improve matches.
Alpha / Beta testing and next steps
Yesterday, the Pensions Dashboards Programme (PDP) announced the names of the seven Alpha data providers. These Alpha organisations will connect to the pensions dashboards ecosystem from late 2021. So we're aiming to have the initial DMCs ready in time for the Alphas to test in early 2022, with refinements from that testing. By the end of Alpha, a suite of industry DMCs will be ready for Beta testers to adopt.
Beta testing data providers will deliver further extensive testing later into 2022, with further refinements to the DMCs. By the end of the Beta testing phase, the finalised suite of industry-wide DMCs should be ready for schemes and providers to select from (unless they wish to build their own scheme-specific matching).
Quotes
Kim Gubler, PASA Chair, said: "Correctly matching users to schemes' administration records is critical for dashboards success. As the industry administration standards body, it makes sense for PASA to lead on developing various data matching conventions for trustees to adopt as they wish."
Nigel Peaple, PLSA Director of Policy and Advocacy, said: "Every PLSA member scheme must decide how they wish to match their records to incoming find requests from the dashboards ecosystem, so it will be efficient to have a menu of industry accepted matching conventions for them to choose from."
Yvonne Braun, ABI Long Term Savings Policy Director, said: "For pensions dashboards to fulfil their transformational potential, users must be able to find their pensions and be confident in the results. That means developing an approach to matching that works for consumers and can work across the industry, and it's up to our industry to make that happen."
David Fairs, The Pensions Regulator's Executive Director of Regulatory Policy, Analysis and Advice, said: "We welcome this innovative industry collaboration. How to best match savers to all their pots through pensions dashboards will be a key decision for trustees. The creation of industry conventions should provide consistency and reassure trustees they are taking a sensible approach to complying with their dashboards duties."
Chris Connelly, EQ Solutions Director and Chair of the PASA Pensions Dashboards Working Group, said: "Admin software providers stand ready to implement matching routines, but these need to be specified first. It makes huge sense for this to be done at an industry-wide, not scheme- specific, level."