August 2020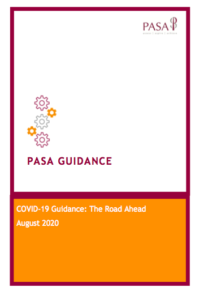 August 2020 – PASA Guidance – Covid The Road Ahead
PASA has issued follow up Covid–19 Guidance designed to highlight best practice for administrators as they navigate their way out of lockdown.
Kim Gubler, PASA Chair, commented; "When we issued the PASA Guidance to administrators as we entered lockdown on 23 March, little did we know the total impact it would have on all our lives.  Fast forward four months and although lockdown has eased, for administrators some of the changes made through the period could become permanent.  We're realising we can no longer talk about 'returning to normal', but rather how we can adapt and evolve the way high quality administration is delivered in future.
"All administrators should have learned something new during the last few months, whether about their people, their technology or their members. PASA has pulled together these learnings to shape our Guidance, we hope organisations can use this to learn from each other's experiences as they look to implement their plans for the future."
This follow up guidance will look at:
Visibility & Accessibility
Digital Workflow
KPIs and projects
Offshoring
Face to face meetings
Identity Verification (IDV)
Investment Managers and AVCs
Homeworking
Wellbeing and productivity
Recruitment
Gubler added: "Overall, the pension administration sector has coped admirably with the challenges created by Covid-19.  Many administrators had already anticipated the need for some form of remote working and had triggered their Covid specific business continuity plans.  In our initial Guidance, we stated administrators needed to be resilient in the face of lockdown's challenge.  As we move forward this is even more critical. Lockdown was a onetime measure imposed on us all, at the same time. However, the rate and way administrators react and respond to the easing of lockdown will be very different, driven by how their own organisations implement their office return plans.   Each will have to map their own path according to a huge number of factors.  As administrators move forward, they need both flexibility to accommodate different ways of working, and the differing needs of members."
March 2020
COVID-19 Guidance for Administrators March 2020 FINAL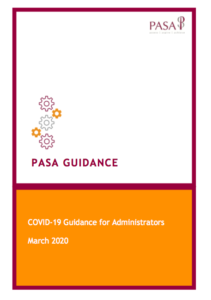 PASA today announced new guidance to support administrators during the Covid-19 crisis.
Kim Gubler, PASA Chair, commented: "In the space of a few weeks the world has changed for us all, the COVID-19 pandemic represents a once in a generation global shift.  For us in the world of pensions, business resilience and agility during these next few months will be critical in ensuring members are protected.   Pension administrators will need to transform their way of working to enable their people to deliver effective remote services to clients and members.  The speed and scale of what has happened has been completely unprecedented and whilst clearly all administrators should aspire to adopt best practice for delivering administration services to trustees and members in the current environment, we must also be realistic, and reasonable.  There will be slippage, no matter the scale of the administrator.
In our Guidance we believe administrators must concentrate on continuing to pay promised benefits, ensuring there are sufficient funds available and keeping accurate records of any work in progress.  In a remote working environment this means basic enablers must be in place.  Administrators must focus on the processes of greatest benefit to members. We also highlight best practice for those administrators with more advanced operations able to demonstrate higher level enablers.  Our guidance will support administrators through this uncertain period, guiding them through both basic and higher enablers so we continue to deliver to members. Crucially, this is also a time when members are particularly vulnerable, potentially isolated from their friends and family.  We also need to ensure our protections from scammers remain robust."
David Fairs, Executive Director of Regulatory Policy, Analysis and Advice, says: "Administrators have a critical role to play during this crisis, by ensuring that benefits are paid promptly, in particular to those most vulnerable. We welcome this guidance from PASA, which will help them in delivering this fundamental role in these difficult and challenging circumstances."