About
From 5 October 2021, VFM requirements were introduced for relevant occupational pension schemes with under £100 million of assets, requiring increased reporting and assessments. DWP's statutory guidance, completing the annual VFM assessment and Reporting of Net Investment Returns, published in June 2021, states there are three areas to consider and report on:
Costs and Charges
Net Investment Returns
Governance & Administration
The PASA DCWG produced a 'Governance Watch' paper on this subject in October 2022, detailing some of the issues faced by trustees in preparing the Chair's Statement and the practical application of the VFM mechanism for DC schemes. Several areas of VFM requirements were identified as requiring careful consideration to ensure any solutions are workable and deliver on the desired outcome.
The purpose of the VFMWG  is to develop PASA's position on the following areas of consultation and debate:
Identify specific legislative, regulatory or process changes required to support the delivery of VFM
Create relevant Guidance for Trustees, Administrators and Sponsors
Respond to relevant consultations
The role of the administrator in supporting effective member engagement and communication for VFM
Publications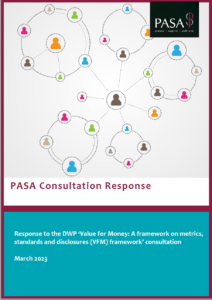 Members
Dave Pharo (Board sponsor)
Jessica Rigby (Chair)
Stephen Childerstone (TPR observer)
Peter Glancy