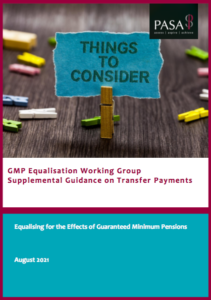 The cross-industry GMP Equalisation Working Group, chaired by the Pensions Administration Association (PASA) has today published Supplemental Guidance on Transfer Payments.
The Guidance provides an update to Methodology Guidance issued in September 2019 and reflects the November 2020 judgment concerning the Lloyds Bank pension schemes (Lloyds 2020).  The impact of Lloyds 2020 is considered from the perspective of both schemes which paid transfer values and those receiving them.
Duncan Buchanan, Chair of the Methodology subgroup said: "The GMP Equalisation Working Group is passionate about helping schemes address the need for GMP equalisation adjustments.  We always knew our original Guidance on methods would need updating once the Lloyds 2020 judgment was issued.  It quickly became apparent to us Lloyds 2020 leaves many issues unanswered for both schemes which have paid transfer values and those which received them.
Members of our subgroup have again pooled their extensive knowledge and wide experience as actuaries, administrators, lawyers and pension managers to produce this Supplemental Guidance on Transfers.  It is designed to fill in the gaps to help address unresolved issues in a pragmatic and practical way.  It is telling the judge in Lloyds 2020 recognised administration costs could easily exceed correction payments needed for past transfers.
It's nearly three years since the first judgment in Lloyds and most schemes remain at the foothills of their GMP equalisation projects, gathering data to prepare for the task ahead.  A few schemes, mainly those already in wind up, have equalised members' benefits and made correction payments.  Schemes are likely to want to prioritise equalising benefits for their members, before turning to members who took transfers out – potentially 30 years ago.
It will be some time before most schemes have scaled the summit of their GMP equalisation exercises, corrected member benefits and reviewed historical transfers.  Along the way, schemes will find past transfers where insufficient data exists to perform calculations.  Even where a top up payment can be calculated it might not be easy to discharge the liability because receiving schemes may be unwilling to accept payments and/or former members may be untraceable or unresponsive.  Having  undischarged or unquantified liabilities to make top up payments may not be a problem for an ongoing scheme but will cause headaches for those moving to wind up, particularly given the lack of a limitation period."
Louise Sivyer, Head of Policy at TPR said: "The November 2020 judgment confirmed that schemes will need to revisit historical individual transfers to check if additional value is due to savers as a result of GMP equalisation. This is a complex exercise, and we welcome the guidance from the industry GMP equalisation working group, which aims to assist schemes and advisers to find a pragmatic approach to equalising past transfers' "
The full Guidance can be found here.