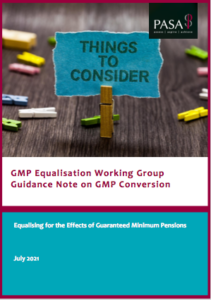 The cross-industry GMP Equalisation Working Group, chaired by the Pensions Administration Standards Association (PASA), today published its GMP Conversion Guidance. The Guidance provides examples of how GMP conversion is being used by early adopters, explaining the issues they faced, how they addressed them and how simplification can be achieved without, in many cases, a significant impact on members.
Alasdair Mayes, Chair of the Conversion sub-group responsible for preparing the Guidance, commented: "GMP equalisation is a major undertaking. The Conversion Guidance addresses another significant step, enabling trustees and their advisors to better navigate their equalisation journey. GMP conversion is a valuable tool which can be used to equalise benefits for GMPs and avoid the additional complexity associated with the year-on-year equalisation methods. Lots of schemes are keen to use GMP conversion but are aware they need to consider the impact on members and address pensions tax and procedural issues from current legislation. This Guidance and the examples provided will help them achieve this."
David Fairs, Executive Director for Regulatory Policy, Analysis and Advice at The Pensions Regulator, added: "GMP equalisation is a hugely complex area, and this is a valuable addition to the portfolio of guidance provided by the industry working group. This guidance will help trustees understand which approaches are being taken in industry to deliver conversion, and the factors they need to consider."
Anthony Arter, Pensions Ombudsman said: "The Pensions Ombudsman welcomes the GMP Equalisation Working Group Guidance on GMP Conversion. It will be useful for us to refer to in our investigations and will be beneficial for the pensions industry working on these types of cases."
The full Guidance can be found here.