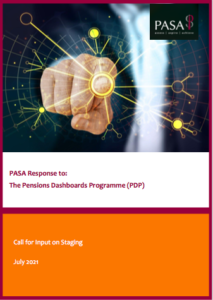 PASA responded to the Pensions Dashboards Programme Call for Input on Staging on Friday. This includes the collated responses from PASA members, along with results from our industry wide survey.
Annex B includes a useful case study, prepared by a collective of TPAs. We took a hypothetical client and worked through, together, everything we would need to do to get ready and set against the back drop of existing resource demands.
PASA is immensely supportive of Dashboards, but we want them to set off on the right foot. As an advocate for Administration professionals, we recognise our primary 'Find first' recommendation may cause us more enquiry work in the interim, but we maintain this is safer, and delivers a valuable reconnect service sooner. In the interim, the dashboard programme can complete its essential user research to define a better articulation of the benefit values it wishes to display so that members gain a better understanding of what they are presented with.
You can find the full response here.