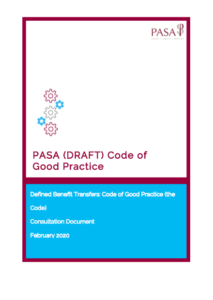 PASA launched a Consultation on its DB Transfers Code of Good Practice at its annual conference held in London today,
Chair of the PASA DB Transfers Working Group, James Ellison, said "The time taken to process defined benefit (DB) transfers varies hugely, some taking months to execute.  Unfortunately, delays damage relationships with scheme members and lead to a breakdown of trust.  This can result in members making decisions which are not in their best interest, or worse still, increase the risk of becoming victims of pension scams. Scammers often use the time taken to process a transfer to create an impression of trustees seeking to hold on to a member's money and to incite them.  It is a horribly sophisticated process and there are lots of members already making poor choices.
"We are extremely mindful of needing to find the balance between member protection and their statutory right to take their pension in a different shape or form, via a flexible arrangement.   As a group, our key objective is to create a framework to help deliver this balance. This Code sets out to create faster, well-communicated, efficient and cost-effective strategies scheme administrators and wider stakeholders can execute."
In July 2019 the PASA DB Transfers Working Group released Guidance focusing on what was defined as a "Standard" or straightforward case. It was originally intended this Guidance would be Part 1 of a two-part release with Part 2 covering "Non Standard" Cases. It was subsequently agreed, rather than produce a Part 2, a Code of Good Practice (the Code) would be created to cover all DB transfers and look to consult with the Industry prior to finalising.
Margaret Snowdon, OBE, PASA President said: "We're committed to driving high standards and improved transfer option communications, helping members to make informed choices in a secure environment. Throughout the document we have raised questions which we invite the Industry to provide responses on within set timelines*. We ask that we come together and work together to get the Code implemented."
*
Consultation launched February 2020
Response to Consultation required by 30 April 2020
Code expected to be released 1 September 2020
Schemes/Administrators will be given 12 months to comply with the Code
Responses should be sent to PASA at: info@PASA-UK.com