About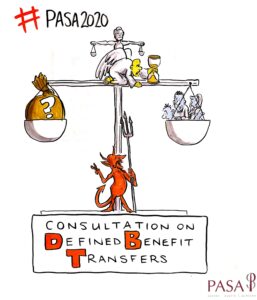 The time taken to process defined benefit (DB) transfers varies hugely. Some transfers take months to execute, for a number of reasons. Unfortunately, whether the criticism is fair or not, delays can damage relationships with scheme members and lead to a breakdown of trust. This can undermine the industry's objective to reinforce the value of safeguarded rights, leaving consumers at the mercy of a sometimes dysfunctional advice market, or worse still, scams. Scammers often refer to the time taken to process a transfer to create an impression of trustees seeking to hold on to money belonging to the member.
The complex nature of safeguarded rights creates a challenge for drafting an efficient and standardised transfer administration time frame. Strong and ever-increasing governance also legitimately adds time to the process.
PASA is mindful of finding the balance between member protection and an individual's statutory right to take their pension in a different shape or form, via a flexible arrangement. We're committed to driving high standards and improved transfer option communications, aiding members to make informed choices in a secure environment.
Whilst there are lots of members who could already be making poor choices, the key objective of the PASA DB Transfers Working Group is to create a framework to help deliver balance. As an industry, we must come together and work to implement this Guidance. The Guidance sets out to create faster, well-communicated, efficient and cost-effective strategies which scheme administrators and the industry as a whole can execute.
Part one of this Guidance relates to 'standard or straightforward cases, whilst Part 2 will cover 'non-standard' or complex cases.
The group launched a consultation on it's DB Transfers Code of Good Practice at the PASA Annual Administration Conference in February 2020. The Code combines the Part 1 Guidance and Part 2 Guidance on 'non-standard' or complex cases. The consultation will close on 30 September 2020 and the Code will be published by the end of 2020.
Members
Margaret Snowdon (PASA Sponsor)
James Ellison (WPS Advisory) (Chair)
Adeline Chapman (Sackers) (Sub Chair)
Alistair Johnston (Criterion)
Andrew Crawford (Lothian)
Andrew MacDougall (LCP)
Ben Goodwin (Deloitte) (Sub Chair)
Clive Harrison (LCP)
Giorgia Carpagnano (Hughes Price Walker)
Grant England (Mercer)
Janet Moreville-Smith (Local Pensions Partnership)
John Dunkley (Buck)
Katherine Kennedy (TPR)
Kathryn Jones (Rothesay Life)
Kathy Cruse (Willis Towers Watson)
Louise Gilroy (TPR)
Mark Radley (Willis Towers Watson)
Neil Easto (XPS)
Petrea Simmons (Willis Towers Watson)
Richard Wyatt (Mercer)