Chapter 1: Retirement savings and old-age pensions in the time of COVID-19 (co-author)
Chapter 3: Increasing the role of retirement savings plans for workers in non-standard forms of work (main author)
Chapter 4: Selecting default investment strategies (main author)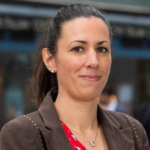 Ms. Stéphanie Payet is a policy analyst in the OECD's Private Pensions Unit. She has more than 10 years of experience in analysing private pension systems around the world, with a particular focus on issues related to retirement savings adequacy, pension coverage, taxation of retirement savings, and plan design. Before joining the OECD, she was a statistical project manager in health economics. She has a Master of Science in Statistics from the French National School for Statistics and Information Analysis (ENSAI).