Editor of the OECD Pensions Outlook 2020
Chapter 1: Retirement savings and old-age pensions in the time of COVID-19 (co-author)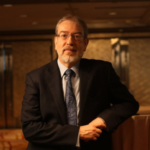 Pablo Antolín is Principal Economist, Head of the Private Pensions Unit and Deputy Head of the OECD Insurance, Private Pension and Financial Markets Division. He manages the research and policy programme of the Working Party on Private Pensions (http://www.oecd.org/daf/fin/private-pensions/), a body that brings together policymakers, regulators and the private sector of almost 40 countries around the world. His work covers issues related to the operation and regulation of funded retirement income systems.
The current work of the WPPP focuses on the best international practices to design, introduce and strengthen complementary funded retirement savings schemes to improve people's retirement well-being. The programme of work also includes collecting and disseminating standardised pension fund statistics; the OECD Core Principles of Private Pension Regulation; and work on pension funds as institutional investors. Additionally, the WPPP also discusses capital requirements and long-term investment; how pension funds, annuity providers and the regulatory framework incorporate future improvements in mortality and life expectancy; the role that funded retirement savings schemes play and could play on retirement income adequacy, including non-standard forms of employment. Finally, the WPPP also assesses the different annuity products in different countries according to the guarantees they provide; and the impact of fiscal incentives on retirement savings.
Currently, the work mostly focuses on the impact of COVID-19 on retirement savings, learning on different policies implemented, and providing policy guidelines.
In the past, he worked on the impact of ageing populations on the economy and on public finances. He has produced several studies examining options available to reform pension systems in several OECD countries, including public pensions. Previously, he worked at the IMF and at the OECD Economic Department. He has published journal articles on ageing issues as well as labour market issues. Mr. Antolín has a PhD in Economics from the University of Oxford and an undergraduate degree in Economics from the University of Alicante (Spain).