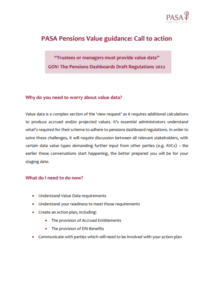 The Pensions Administration Standards Association (PASA), the independent body dedicated to driving up
standards in pensions administration, today released Guidance on Value Data for pensions dashboards.
Kim Gubler, PASA Chair, commented: "Value data is a complex section of the dashboards 'view request'
as it requires additional calculations to produce accrued and/or projected values. It's essential pensions
administrators understand what is required for their scheme to adhere to pensions dashboard
regulations. In order to solve these challenges, it will require discussion between all relevant stakeholders,
with certain data value types demanding further input from other parties (e.g. AVCs) – the earlier these
conversations start happening, the better prepared you will be for your staging date."
Rob Dodson, Co-Chair of the PASA Dashboards Working Group, added: "This Guidance is designed to
support administrators in getting ready to meet dashboard regulations. The Guidance includes a checklist
and further details on:
• Understanding value data requirements
• Understanding your readiness to meet those requirements
• Creating an action plan, including:
• The provision of Accrued Entitlements
• The provision of ERI Benefits
• Communicating with parties which will need to be involved with your action plan"
The Dashboards Pensions Values Guidance can be found here.