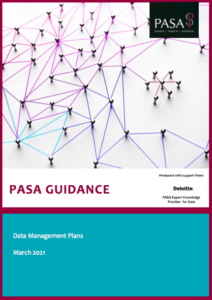 PASA today launched its Data Management Plan Guidance in conjunction with PASA Expert Knowledge Provider for Data, Deloitte.
Chris Tagg, PASA Board Director, commented: "The importance of managing the quality of pension scheme data is greater than ever, and rightly so. Developments in legislation and regulation – such as GDPR, GMP equalisation, buy-in/ buy-out and pensions dashboard – have pushed data quality and management to the top of the agenda for both the trustees of pension schemes and their employers. It's now becoming critical for data to be complete and accurate for a scheme to meet its duty to members, as well as legislative requirements, but it's a big task and the difficulty for many schemes lies in what to prioritise.
Kristy Cotton, Chair of the PASA Data Working Group continued: "Holding complete and accurate data goes hand-in-hand with meeting the primary objective of any pension scheme – to pay the right benefits, to the right person, at the right time. A Data Management Plan (DMP) is a critical scheme document and forms part of good scheme governance. It's implementation offers a means of documenting the data held by a pension scheme and a policy for managing it effectively.
This Guidance sets out, at a high level, the purpose of a DMP and the information which it may be expected to include such as processing, security and improvement. We would encourage all trustees to review the completeness, accuracy and appropriateness of their data and integrate a DMP as part of their wider risk management framework."
The full guidance can be found here.