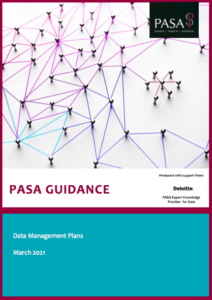 The focus across the pensions industry on the importance of managing the quality of pension scheme data is greater than ever, and rightly so.  Developments in legislation and regulation – such as GDPR, GMP equalisation, buy-in/ buy-out and pensions dashboard – have pushed data quality and management to the top of the agenda for both the trustees of pension schemes and their employers, with it becoming more and more critical for data to be complete and accurate in order for a scheme to meet its duty to members, as well as legislative requirements..
PASA has an established Data Working Group which brings together knowledge and experience across the pensions industry to support trustees, administrators, employers and providers in this area and provide practical guidance in the management of pension scheme data.
Holding complete and accurate data comes hand-in-hand with meeting the primary objective of any pension scheme – to pay the right benefits, to the right person, at the right time. Reviewing the completeness, accuracy and appropriateness of data should form a key part of the governance and risk management frameworks for all pension schemes. The implementation of a Data Management Plan ("DMP") offers a means of documenting  the data held by a pension scheme and a policy for managing it effectively. Examples of some of the sections which could be included in a DMP include:
Details of the data items which are required to be held by the pension scheme, including the purpose of each item and its dependencies.
Processes for handling pension scheme data including how it is received, transferred and managed by the users, including the data security measures which are in place to protect it.
Measurement of data quality and documentation of the processes and control strengthening measures to improve the data quality. A DMP could be supplemented by, or in some cases contain, a data improvement plan to formalise the approach to achieving improvements.
Maintenance of a record of decisions made by trustees and a clear version control.
The attached Guidance sets out more detailed examples of the content which could be included in each of these sections.
Managing the quality of pension scheme data is a key trustee responsibility and developing, implementing and maintaining a Data Management Plan which meets the need of the pension scheme should be an action for all trustee boards. Focus on data is greater than ever and the pensions industry must take steps to prioritise data.  The information in the DMP should be integrated with the approach trustees are taking in respect of data as part of their wider risk management framework.