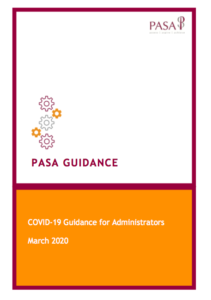 PASA today announced new guidance to support administrators during the Covid-19 crisis.
Kim Gubler, PASA Chair, commented: "In the space of a few weeks the world has changed for us all, the COVID-19 pandemic represents a once in a generation global shift.  For us in the world of pensions, business resilience and agility during these next few months will be critical in ensuring members are protected.   Pension administrators will need to transform their way of working to enable their people to deliver effective remote services to clients and members.  The speed and scale of what has happened has been completely unprecedented and whilst clearly all administrators should aspire to adopt best practice for delivering administration services to trustees and members in the current environment, we must also be realistic, and reasonable.  There will be slippage, no matter the scale of the administrator.
"In our Guidance we believe administrators must concentrate on continuing to pay promised benefits, ensuring there are sufficient funds available and keeping accurate records of any work in progress.  In a remote working environment this means basic enablers must be in place.  Administrators must focus on the processes of greatest benefit to members. We also highlight best practice for those administrators with more advanced operations able to demonstrate higher level enablers.  Our guidance will support administrators through this uncertain period, guiding them through both basic and higher enablers so we continue to deliver to members. Crucially, this is also a time when members are particularly vulnerable, potentially isolated from their friends and family.  We also need to ensure our protections from scammers remain robust."
David Fairs, Executive Director of Regulatory Policy, Analysis and Advice, added: "Administrators have a critical role to play during this crisis, by ensuring that benefits are paid promptly, in particular to those most vulnerable. We welcome this guidance from PASA, which will help them in delivering this fundamental role in these difficult and challenging circumstances."
The guidance can be found here.