On 4 February 2020, PASA hosted its 3rd annual conference attended by over 180 people. It showcased great speakers from all aspects of the industry focused firmly on pensions administration, with a keynote speech by David Fairs from The Pensions Regulator. We were pleased to be supported by a number of valued sponsors and amazing visuals from Drawnalism. It was our first full day conference and I believe our best so far! If you missed it, click on the link to see the highlights and photos from the event.
It's hard to imagine when you compare this year's conference to our first members meeting.  It was a wet and rainy evening in February 2017 at The Goldsmith's Centre where we outlined our business plan and key objectives for the future, to:
Improve administration standards
Raise pension administration's profile
Provide timely guidance on best practice
Then we had 30 corporate members, two of which were accredited and we received little press coverage.
Today we're comprised of:
Nine Accredited organisations – Barnett Waddingham, Hyman Robertson, LCP, Lothian Pension Fund, MyCSP, Premier Pensions, Rothesay Life, Royal Mail Pensions Service Centre and UK Power Networks
Over 60 corporate members including third party administrators, pension lawyers, consultancies, local authority funds, software providers and other professionals
Six Board members – Kim Gubler, Gary Evans, Girish Menezes, David Pharo, Paul Sturgess and Chris Tagg.
Five Committees – Industry Policy, Standards, Accreditation, Membership & Funding and PR.
Seven Working Groups – Data, Dashboard, DB Transfers, DC Governance, e-Admin, GMP, Master Trust Transitions, with more to come
Our comments are now frequently sought by the press and in 2019 we received 195 pieces of overall coverage.
In January 2019 we were delighted Geraldine Brassett was asked to chair the cross-industry Working Group on GMP Equalisation on PASA's behalf.  Demonstrating how highly regarded PASA has become.
So what's next?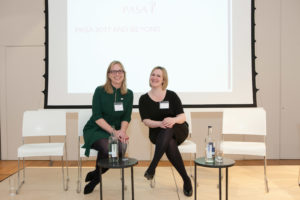 Working closely with the Membership & Funding Committee we want to widen our membership and engage with all parties associated with pensions administration. As well as expanding our Accreditation standards to cover Master Trusts and contract-based schemes.
We plan to hold a couple of smaller events once the impact of the novel Coronavirus has settled.  These will both target new audiences and ensure we're listening to our existing members. The first will be a workshop exploring how PASA can support pensions administration within Master Trusts. We would really like to hold a summer party to thank all our amazing volunteers for their efforts. Only the developments in reacting to the virus will prove if this will be possible.  But we'll run it as soon as we can, because volunteers are PASA's lifeblood!
We're receiving submissions on the DB Transfers Code of Good Practice Consultation, and will launch the revised Code on 01 September. We're also mindful of the impact GMP equalisation will to have on defined benefit schemes and will run a master class event in the next 12 months.
As I write this blog, the PR committee is already working on arrangements for the 2021 conference when PASA will also be celebrating its 10-year anniversary.  Be sure to pencil in Tuesday 9thFebruary 2021 to your diary and keep an eye out for further updates.
As the title suggests we've come a long way since our humble beginnings. The PR Committee's ambition is for PASA's annual conference to become the must-attend event on pensions administration, providing inspiration, support and innovative ideas to a previously much neglected area of the industry. PASA will keep this event free, by aiming to become self-funding through sponsorship. In such an exciting time for PASA, the PR Committee has so much coming up in terms of new Guidance releases, launches, events, exhibiting and of course the annual conference. We're always looking for new volunteers to get involved in (probably most exciting!) Committee, so if you want to help us, please contact me or Lucy Collett.

Justine Joy, March 2020
PASA PR Committee Chair