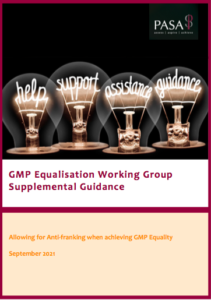 The cross industry GMP Equalisation Working Group (GMPEWG) today published supplemental Guidance allowing for Anti-franking when achieving GMP Equality.  The GMPEWG is chaired by the Pensions Administration Standards Association (PASA).  The Methodology sub-group previously issued Guidance in September 2019 which included a short section on anti-franking.
Felicity Boyce, Chair of the Anti-franking sub-group and Consultant at Aon, commented: "Following requests from the industry, we have produced a supplement to the original Methodology Guidance which examines the interaction of anti-franking and GMP Equalisation in more detail.  The Guidance explains why anti-franking is important in the equalisation journey, highlights the potential significance of the Later Earnings Addition and suggests approaches to deal with the key areas of uncertainty.
There are three potential techniques for applying anti-franking for equalisation purposes which are explained in the document. These are:
Ring-fence (90-97) Technique
DWP 2012 (Whole of Service Mixed Sex) Technique
Apportionment (Whole of Service Pure Sex) Technique
The Guidance goes on to provide practical examples following the 'ring-fencing' technique, which we have designed to provide useful illustrations to schemes and their administrators."
The Supplemental Guidance on Anti-franking can be found here.