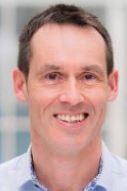 John has over 30 years' experience in Financial Services, spanning Pensions Management, IT Service Management & Delivery, Origo Standards Analysis & Development, and IT Project Management.
John has extensive experience in running Governance and Project Working groups across the whole spectrum of Origo activity, and considerable experience in industry-wide projects where a high degree of collaboration is required.
John has managed a number of high profile projects over the years for 2 of Origo's flagship products – the Origo Transfer Service and the Origo Integration Hub.
John's approach is customer-focused, inclusive, very pragmatic, and very much delivery-focused.