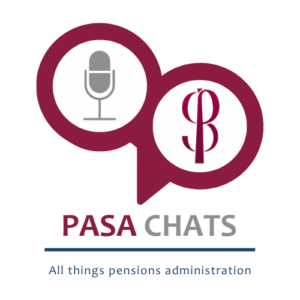 PASA Chats is our new podcast channel where you can hear PASA chat about all things pensions administration.
---
Darren Philp hosts a discussion with Baker McKenzie's Jonathan Sharp and Origo's John O'Hara covering the implementation of the anti-scamming legislation, the effect it is having on transfers and considerations that trustees and scheme administrators need to keep front of mind in dealing with the new legislation. Also keep an eye out for the latest PASA DC Governance watch that also looks in depth at this issue.
Host Darren Philp chats with Kim Gubler, PASA Chair, and Dave Pharo, PASA Board Member, about the evolution of PASA and its plans for the future.
In this inaugural PASA Chats podcast, Darren Philp (Shula PR & Policy) chats with PASA DC Working Group members Sue Pemberton (Isio) and Catalina Esler (Evolve) about all things VFM and the new regulatory requirements.
This is a hot issue in pensions and the Department for Work and Pensions will be consulting on this in the autumn. PASA has just produced its first edition of DC Governance Watch focused on VFM, so we asked two of the members of the working group, and authors of the paper, to give us the insight and lowdown on what schemes should be doing and what can we expect.
Join us as the panel discusses why VFM is such a hot topic, the key elements of the new requirements, what trustees should be doing to ensure compliance to the new rules, where trustees and administrators can go for further information and what we can expect from future initiatives on VFM.