Agenda
09.00 Arrivals – breakfast available
09.30 – 9.35 – PASA Chair, Kim Gubler
Introduction
09.35 – 10.00 – Keynote Speaker, David Fairs, TPR
David Fairs will be sharing his insights on the latest and future regulatory developments.  He'll discuss some of the responses to our recent consultation on the Future of Trusteeship and update the audience on TPR's latest work around administration.  He'll also share his thoughts on the pensions dashboard.
10.00 – 10.25 – PASA President, Margaret Snowdon OBE
Launch of the Consultation of the Combined Code for DB Transfers.
10.25 – 10.45 – Q&A
10.45 – 11.15 – Coffee break
11.15 – 12.00 – Member communications – fit for purpose?
Andrew Moffitt, Ferrier Pearce and Joe Craig, Quietroom. Chaired by PASA PR Committee Chair, Justine Joy.
Our panellists will discuss the main communication challenges within administration, how to devise and implement a communications strategy, highlight how the communications landscape is changing and reveal their top quick wins and must haves for your own scheme.
12.00 – 12.30 – Q&A and morning's round-up
12.30 – 13.15 – Lunch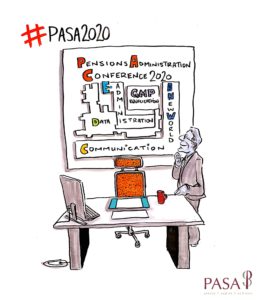 13.15 – 13.45 – Lesley Carline, PMI President and Martin Wigfield, Zatori
The pensions administration market perspective. Further details to be confirmed.
13.45 – 14.05 – DC Master Trust administration – what's the difference?
Emma Douglas, Legal & General Investment Management
Emma will discuss how the new DC landscape effects the relationships with your administration team. How administration can be monitored and prioritised in a Master Trust arrangement and to ensure it receives sufficient Trustee focus. Emma will also highlight the employer experience within a DC Master Trust arrangement from an administration perspective.
14.05 – 14.30 – Q&A
14.30 – 15.00 – Coffee break
15.00 – 15.30  Data. Know Your Customer – Be Accurate, Be Compliant, Be Innovative.
Lisa Lyon, Target Professional Services
Lisa will cover how to ensure your data is accurate and present, ensuring it is GDPR compliant and how you can do this using technology.
15.30 – 15.50 – Duncan Buchanan, Hogan Lovells
GMP Equalisation – further details to be confirmed.
15.50 – 16.10 – Q&A and the day's round-up
Closing remarks from PASA Chair, Kim Gubler.
16.15 – 18.00 – Drinks reception
The event is free and you can register on our EventBrite page. Please note that, due to the event's popularity, there will be a cap of 3 attendees per organisation going forward.
If you are interested in sponsoring the event, you can find further details in our event Sponsorship Brochure.