About
If we were to ask pensions professionals "where is data important" we are sure there would be an industry-wide consensus, data underpins every aspect of running a pension scheme and good quality data is critical to the effective management and delivery of pension benefits. All pension schemes are expected to actively manage their data, performing data analysis to determine common and scheme-specific data scores and to proactively address data issues and manage the quality of data held. Not only is good data needed for the efficient and accurate day-to-day administration of benefits, but current projects such as GMP equalisation and preparation for Pensions Dashboard are critically reliant on accurate and complete data.
Holding data which is complete and accurate is critical, and the industry focus on data is key to continued success.
Objectives
As a working group, DWG is focused on:
Supporting the industry to meet its professional and compliance obligations;
Providing guidance to efficiently and effectively manage pension scheme data; and
Encouraging the industry to drive an improvement in the quality of pensions data and proactively manage data as a high priority.
The DWG is looking to identify, develop and recommend industry standards for data, and support the industry in focusing on the importance of data management. We are focused on providing support and guidance on the current industry developments that are impacting pension schemes and where trustees, sponsoring employers and pension professionals will value additional data guidance, such as Pensions dashboard, GMP equalisation, and the ever-evolving world of technology.
Guidance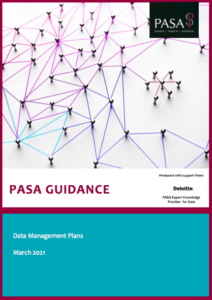 June 2021 – Data at the heart of every scheme
March 2021 – Data Management Plans
February 2019 – Data Guidance
Blogs
Data Working Group Blog – November 2020
Working group members
Chris Tagg (Board sponsor)
Kristy Cotton (Chair) (Deloitte, PASA Experts for Data)
Samantha Chandler