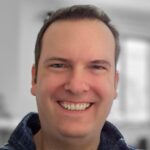 Adam is Pensions Events & Data Manager for Nestlé UK where he joined in 2012.  His team has overall responsibility for the delivery of UK fund events, data needs and DC processing.
Adam's team operates within Nestlé Pensions team which runs a full in-house DB and DC function in the UK administering benefits for 38,000 members and £6bn in liabilities.  Across the UK and Ireland zone, Nestlé has 20 pension arrangements covering nearly 9,000 employees.
He started working in the Pensions industry in 2000 as a trainee pensions administrator where he very quickly realised the importance of high-quality data and the need for this across all aspects of a pension fund, from settling a member's benefits to undergoing de-risking initiatives.  Adam's career moved into the pensions systems and data world in 2003 and he hasn't looked back!
At the start of his career, Adam worked in third-party however, the majority of his working life has been spent working in-house for some very large pension funds.
Adam has experience with data improvement initiatives and also data streams for acquisitions and disposals from the business.
He currently chairs the Nestlé UK Pensions Data Management Plan Working Group and sits on both the Nestlé UK Pensions Technical Working Group and Nestlé UK Pensions Technology Strategy Working Group.
Adam has been awarded EPMI membership by the PMI.